Selmar's new Aged Care Employment Program trains highly proficient and compassionate individuals to join the aged care sector.
After the success of our pilot program, the program is continuing into its second cohort – ensuring we keep providing the sector with skilled and confident staff.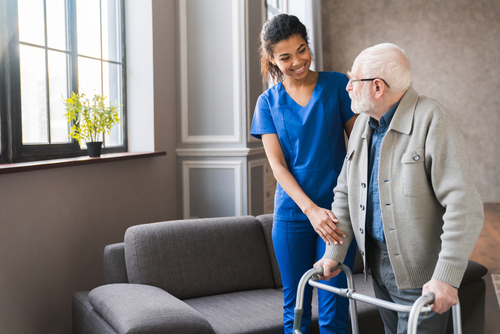 Program update
In partnership with aged care provider Uniting NSW.ACT, we designed our pilot program to connect people with the skills and training needed to become caring and adaptable workers in the sector. Learners in the Aged Care Employment Program undertake a combined 4-week online Work Readiness Program and a Certificate III in Individual Support paid traineeship where they develop technical, interpersonal and employment skills required to transition into the workforce.
The conclusion of the pilot program saw high numbers of graduates going on to enrol in a traineeship: currently, 23 of our Work Readiness Program graduates are enrolled in traineeships with Uniting in both residential and home and community care.
Successful learners become successful workers
Having confident, capable, and empathetic care workers on your team is arguably the most important aspect of providing quality care. Everyone deserves the right to age with dignity and respect, with the difference between a bad experience of care and a good one often coming down to the relationship between clients and their carers.
At Selmar, learners receive holistic support from experienced trainers and mentors who know just what it's like to work in this challenging – though highly rewarding – industry. With a focus on advanced technical skills as well as emotional intelligence, empathy and diversity, we aim to support the sector by producing committed and talented carers.
Beginning with our intensive 4-week Work Readiness Program, participants in the Aged Care Employment Program are provided with a strong foundation of technical, behavioural and communications skills required to set them up for success. Learners are prepared to head into the workforce as trainees, where they can further develop their skills on the job.
The unique structure of this program means that learners work toward a qualification with a genuine career in sight. This not only makes gaining a qualification appealing, but also contributes to a sense of empowerment and pride which learners will take with them into the workplace.
As our Key Accounts Manager Meralda Bateman says;
'successful learners make successful workers. Studying with the support of our fantastic trainers and an attainable goal in mind instils a real sense of pride in our graduates. It makes them want to be the best care workers they can be.'
Supporting the sector
High quality aged care centres around the conviction that all people deserve to age with dignity. This approach prioritises quality of life for the elderly – in other words, it puts elderly people first. We know that the Royal Commission into Aged Care Quality and Safety identified high quality care as both a foundational aspect of aged care reform and a key area for improvement. Skilled and empathetic carers are integral to making this happen.
Participants who successfully complete the Work Readiness Program gain entry into a Certificate III in Individual Support traineeship with Uniting. They'll end up with a nationally recognised qualification to work in aged care and invaluable hands-on experience of what the workplace is like.
Traineeships provide comprehensive training in all areas, from medical knowledge to emotional and behavioural skills to practical experience – meaning that employers gain highly skilled employees who are ready for the challenges of the workplace. In turn, this raises the standard of care across the entire sector. At the conclusion of our two-part employment program, participants have everything they need to transition seamlessly into new roles with aged care providers and employers.
Benefits across the entire sector
Bringing learners from our program on as trainees is not just good for employers, but for the entire aged care sector. Some benefits include:
Skilled and confident carers
Work-ready employees
Solution to workplace shortages and staffing issues
Empowered graduates with positive attitudes
Improved training and approach to care benefits the sector as a whole
'It's about raising the standard of care in the industry through positive change. Participants in our Aged Care Support Program learn that it's not just about technical knowledge but about being compassionate and supporting diversity too. The benefits for employers are endless. We're delivering work-ready trainees who really care about what they do.' -Meralda Bateman, Key Accounts Manager at Selmar
Victoria, here we come!
Currently the program is only available in NSW, but we are looking to expand into Victoria to keep supporting the aged care sector in the way we do best.
Create change and support your business with learners from our program
Aged care providers and employers interested in learning more about benefits and partnership initiatives can get in touch with our team. Let's create a better aged care sector for everyone.