Ready to explore an aged care career? Doing your research on any sector you're considering entering is important, as it's common to find out that there was plenty about a career pathway that you had no idea about!
When it comes to working in aged care, there are the practical considerations such as the types of jobs available, salary expectations and qualifications. Then there are factors such as how you might feel working in the aged care sector and the kinds of personal experiences you can expect.
Knowing a little more about the ins and outs of the aged care sector can help you decide if working in this sector is right for you and where to begin.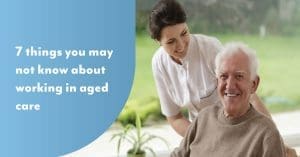 Things to know about working in aged care
If you're starting to look at joining the aged care workforce, here are a few key insights into the sector to help you know what to expect:
1. There are a variety of care types and aged care roles
From home care to residential care facilities, there are many types of care available to ageing Australians. As such, there are a diverse range of job types available when working in aged care. Supporting elderly people to stay independent in their homes may be an area of interest to you, or perhaps you would prefer to care for seniors in aged care residential facilities. Also, organising leisure activities for the elderly or designing care programs for them are specialised areas within the sector.
Aged care work can fit in with a variety of lifestyles too, with options to work night shift as well as full time or part time hours.
2. The sector is undergoing big changes
With the Aged Care Royal Commission final report due to be handed down in February 2021, working in aged care is set to evolve and improve in the coming months and years. The recommendations so far have been centred around ensuring aged care workers receive the necessary support to access high quality training and given every opportunity to deliver optimal care to the elderly. Increased quality standards, improved staffing ratios and more are set to shape a world class aged care sector for Australians.
3. Aged care workers actively improve peoples' lives
For many, finding fulfilment in a career comes through knowing that what you're doing each day is having an impact. Working in aged care, you make a notable difference to the lives of others every time you head to work. Aged care workers provide care and companionship to some of the most vulnerable members of our communities. The work undertaken improves the quality of life for seniors and enhances their health and wellbeing.
4. Genuine job prospects and security
It's no secret that Australia has an ageing population, and this means that the demand for aged care is on the rise. Working in aged care, you are part of a booming sector which gives you the security of knowing that you have highly sought-after skills and qualifications, and that jobs are available to you.
5. Work and earn in aged care while you learn
Aged care careers open up to you as soon as you enrol in your qualifications, and with workplace training as a delivery mode option you can earn a salary working in the aged care sector at the same time as studying your course. As well as alleviating financial pressure or juggling other work with your studies, this gives you the chance to gain essential on the job training. It's a win-win!
6. A sector with career advancement opportunities
Being able to progress in your career is always valuable — as you gain more experience or learn more within the aged care sector, you might want to advance your training and position. There are plenty of opportunities to do this in aged care, with further studies available to move into other areas or into leadership positions. Growing your career and gaining further qualifications can be achieved while you're working too.
7. Aged care work enriches your life
From an outside perspective, maybe working in aged care doesn't seem like a dream career, but once you get talking to those who work within the aged care sector you will discover just how rewarding aged care work can be. From the incredible stories you will hear from the seniors around you with a lifetime of experiences to share, to the sense of fulfilment that comes with knowing you have brightened someone's day or made their life easier, aged care offers so many rewards to its workers.
Working in aged care: get started
Ready to get started working in aged care? Gaining the required aged care qualifications is the first step. The Certificate III in Individual Support (CHC33015) is an entry level course that will equip you with everything you need to make a start in the aged care sector and begin making a meaningful difference.
Our trainers are committed, compassionate and have plenty of sector experience to help you reach your goals working in aged care. You will be supported from the very beginning of your journey right through, with guidance available at every step.
For more information about getting started working in aged care, contact Selmar today.