Wondering if a child care career is right for you? We've rounded up seven of the top reasons why working in child care is a great choice!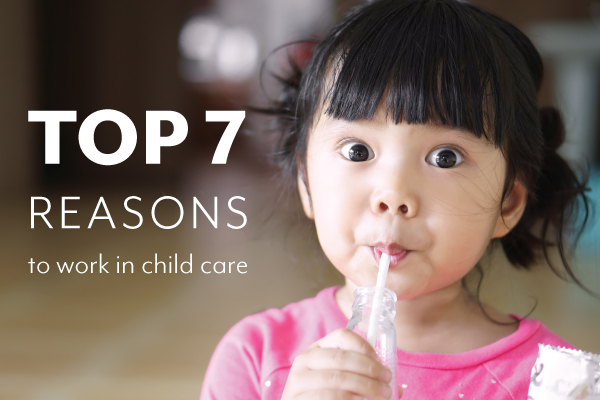 Excellent job prospects
The child care sector is booming, with educators highly sought after across Australia. With the demand expected to continue to grow, a career in Early Childhood Education and Care is future proof, with excellent job prospects now and in years to come.
Every day is different
Getting bored at work is not something you'll need to worry about when working in child care! With new activities to plan, books to read, games to play and so many little people full of stories, every day is full of surprises!
Work life balance
There are many roles and shifts available throughout the sector that can accommodate your existing life commitments. Full time, part time and casual roles are all common, so whatever work life balance you seek should be achievable within a career in child care.
Lots of fun and laughs
With children, the laughs just keep coming! You'll find endless fun working in childcare, listening to children's hilarious stories, watching them as they explore the world and learn. You'll start to see the world through the eyes of a child again too and can experience the laughs alongside them!
Room to grow
The sector offers many career options and room to grow in the sector. Becoming a room leader or the director of a child care centre may be a goal for you. Maybe you want to create a pathway to university to become a teacher? With child care, you have options.
Make a difference to children's lives
Working in child care means you are helping to nurture children as their brains go through their most rapid and crucial period of development. The relationships you create with children and your contribution to their wellbeing and education can lay a foundation for the rest of their lives. Now that's an important career.
A variety of opportunities
From working in a child care centre to running your own family day care service, Early Childhood Education and Care qualifications open up doors to many opportunities. Take your skills overseas, start your own business from home, open a centre in your community or work in after school care.
Convinced? Let's get you qualified for a fulfilling career in child care! Explore our courses here.