When you're qualified in early childhood education there is a range of meaningful career paths you can take. From nanny to centre-based educator, family day care owner to child care centre director, each role is unique. Child care wages, hours and responsibilities can also vary depending on your position.
If you're exploring child care positions, we've rounded up some figures to give you an idea of the child care wages you can expect from a variety of roles.
Child care wages guide 2018
In early childhood education, you are paid based on the Children's Services Award 2010. You can download a copy of this here. The amount you earn will go up in levels in accordance with your experience. Here's an example from the Children's Services Award 2010 document: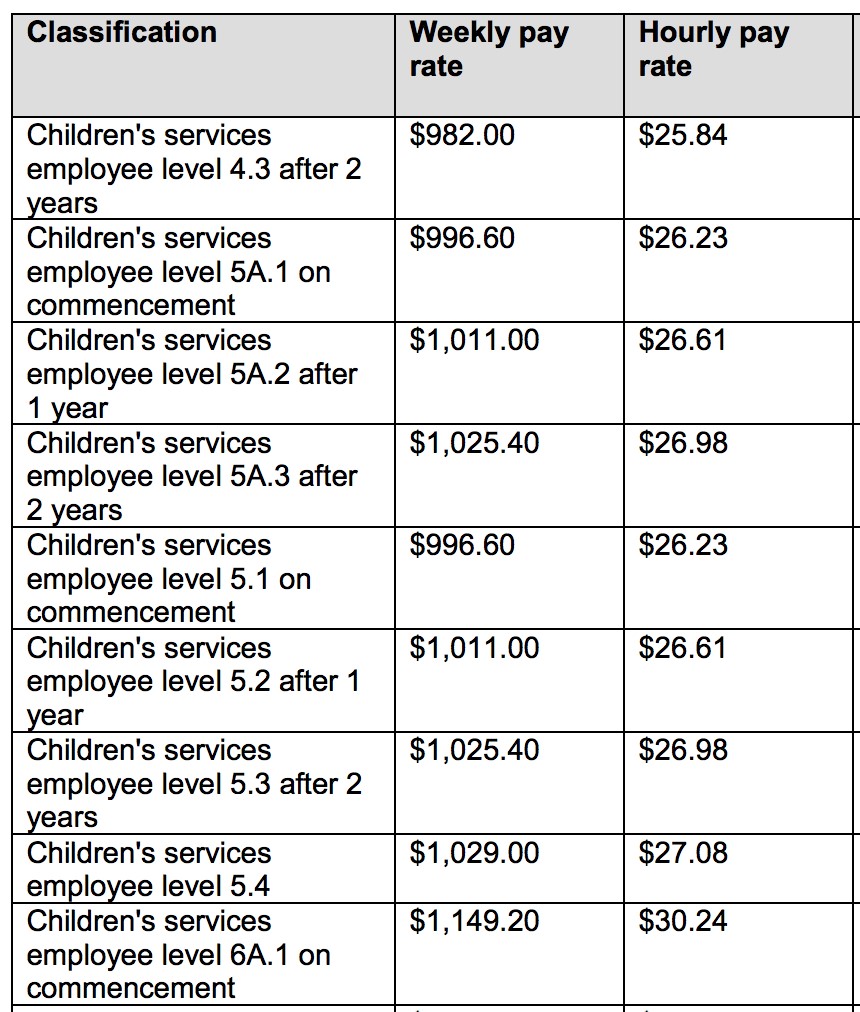 Your rate of pay can also be impacted by your qualifications, with a Diploma qualification garnering you a higher income than a Certificate, for example.
Comparing median earnings in child care
We have gathered a few Australian figures from Payscale to give you an idea of the national median child care wages you can expect from a number of positions in the industry. As the number of hours you are required to work, responsibilities and roles can vary, these figures are simply an indication based on what others working in these positions are earning.
Early childhood educator: $50,248
Child care centre director: $62,825
Assistant director: $54,747
Nanny: $34,476
Income from other roles such as family day care operator will depend on the number of hours you choose to work and the fees you charge.
Remember, when it comes to choosing a position that suits you, you should also consider working conditions, location, working hours, professional development opportunities and other aspects of employment.
Sources:
http://awardviewer.fwo.gov.au/award/show/MA000120
https://www.payscale.com/research/AU

Get Selmar's blogs in your inbox in a second! Subscribe to get our latest blogs now.