The Royal Commission into Aged Care Quality and Safety launched in 2018 with the purpose of reviewing aged care services in Australia. Earlier this year, it released its final report, including 148 recommendations as part of reforming and improving the aged care system.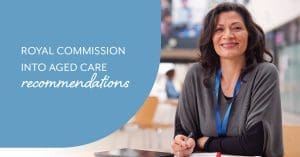 Among the recommendations is to make a Certificate III in Individual Support the mandatory minimum qualification required for all aged care workers performing paid work in aged care.
Having this minimum qualification requirement in place will help to uplift skills across the aged care sector. The aim is to ensure that the aged care workforce is equipped with the correct knowledge and skills to consistently deliver high quality care.
Currently most employers won't hire staff without a Certificate III level qualification (or working towards). Selmar fully supports this recommendation by the Royal Commission as a positive step forward to raising the standard in aged care.
Certificate III in Individual Support: what it covers
Our Certificate III in Individual Support is a qualification available to those who'd like to start (or potentially continue) working in aged care.
A practical 12-month course, it's the ideal platform for launching into one of Australia's fastest growing sectors. Some of the core disciplines covered include working legally, safely and ethically, providing individualised support, recognising healthy body systems and working with diverse people – along with the ability to focus on delivering aged care in residential care settings or home and community care.
Gain a thorough working understanding of what the job involves in a practical sense. We incorporate hands-on training to ensure every learner at Selmar graduates with the confidence needed to provide compassionate, quality care.
Our trainers have a wealth of their own aged care sector experience to share with learners, and provide tailored support that suits each individual's learning style, preferences and circumstances.
How learners benefit from this Certificate III qualification
For learners, this Certification III qualification provides a solid foundation to enter the aged care sector. It also opens up the door for learners to potentially continue upskilling with more advanced qualifications in the future. Existing domestic support workers can use the Certificate III in Individual Support to expand their skills and take on personal care shifts for clients, to make an even bigger impact. A few ways you will benefit from undertaking this qualification include:
Improved employment prospects now and long-term
Enhanced confidence to be a high-quality carer
Gain the most up-to-date knowledge and skills for the sector
The sense of accomplishment that comes with achievement
With the minimum qualification recommendation, those who do not possess a Certificate III in Individual Support may eventually need to upskill in order to remain employed in aged care. Thankfully, this course is available accessible and flexible to be a viable option for many. Gaining the latest knowledge and skills to shine in the aged care sector can only be a good thing for the standard of care you are able to provide.
Employer benefits of a skilled workforce
There are clear advantages for employers in ensuring their workforce is minimally qualified with a Certificate III in Individual Support.
Up-to-date skills:
When your team has the latest knowledge and skills to work from, you can be confident in their ability to provide exceptional care.
Consistent care:
Aged care staff who are all trained to the same minimum standard will be able to uphold the same level of care.
Minimised workplace incidents:
Up-to-date training means everyone knows what is expected of them and how to ensure there is less risk of workplace incidents.
Enhanced quality of care:
More capable and confident workers will result in better outcomes for aged care patients and their families.
Gain the necessary qualifications for a thriving aged care career
With Australia's ageing population among other factors, it's no secret that the aged care sector is growing at a rapid pace. Many aged care facilities are struggling to find workers.
With the Royal Commission's recommendation for a Certificate III in Individual Support to become the new minimum qualification, there has never been a better time to invest in your future and get skilled in an essential sector where there's plenty of opportunity to grow.