Putting people at the heart of aged care means empowering elderly Australians with the tools and opportunities to live rich and fulfilling lives.
If you've been thinking about a new direction for your aged care career, leisure and health is a rewarding area where you'll have many opportunities to make a positive impact.
While our CHC43415 Certificate IV in Leisure and Health was previously geared exclusively toward those already working in residential care, we've refreshed the course and have also included a distance delivery mode. This now opens up the eligibility to people who are not currently employed in the community services sector.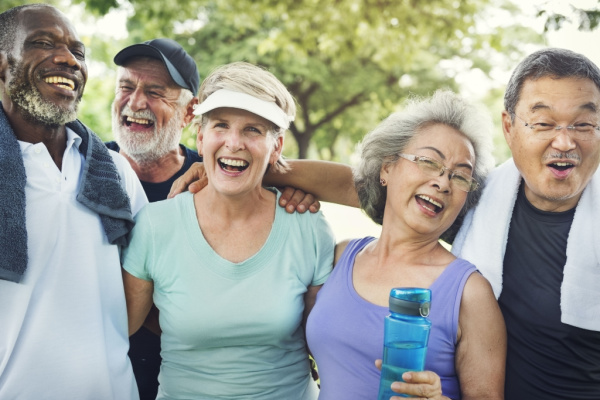 Have a positive impact
One of the most wonderful things about working in aged care is that there are so many ways to have an impact, and leisure and heath is one of those areas in which you can really see the difference you're making to people's lives.
Many elderly people struggle with feelings of loneliness and loss associated with ageing, lack of mobility, cognitive decline and social isolation. As much as we might wish otherwise, it's no secret that the conditions in residential care can sometimes exacerbate these negative outcomes.
We all want those in our care to lead meaningful lives. Leisure and lifestyle activities can alleviate negative outcomes by promoting health, happiness and connection.
Working in leisure and health
Taking on a role where you specialise in leisure and health means promoting a rich and fulfilling lifestyle for those in your care. You might be working with an individual or a group, using resources like lifestyle questionnaires to find out about your clients' history, what interests them, and what they feel is lacking.
Using this information you'll design and implement a lifestyle plan including activities to boost overall health and wellbeing.
Lifestyle activities for enrichment
Using lifestyle activities to enrich the lives of elderly residents is nothing new – but as our attitudes to care change and as different generations come into care, our approach must change with them.
It's worth reminding ourselves of the value of different activities, such as:
Social interaction, outings and excursions
Getting out and about might involve arranging visits to museums, classes, parks and attractions. Helping elderly residents to stay mobile and take part in the 'outside' world can assist them to maintain connections with community and provide a sense of inclusion. It can also help to counteract feelings of isolation which stem from living in care.
Music, singing and storytelling
No matter who we are we all have a favourite song, band, genre or story. Activities which involve music, singing and storytelling are a chance for elderly residents to share experiences, recover happy memories, strengthen relationships and find joy in the power of words and music.
Arts and crafts
Art is well known for its therapeutic effects. Activities like drawing, painting, sewing, cooking, writing and making stimulate the mind while nourishing the heart. Having a routine art class or an ongoing project can be soothing or invigorating, depending on the individual. Programs which revolve around art and crafts allow people to feel useful, establish goals and express themselves creatively.
Physical activities like exercise and dance
It's important for elderly people to stay fit and healthy, and while contact sports and vigorous exercise might be off the cards, there are plenty of stimulating ways to get their bodies moving. This might look like gentle stretching and exercise routines or interactive dance classes accompanied by musical favourites.
Spiritual care
Many elderly people find solace in spirituality and religion, and it's important to identify whether this is a requirement for individuals in your care. An appropriate lifestyle plan will factor in routines and places of worship, access to spiritual teachings, community involvement and time for reflection and prayer.
Connecting with family, friends and pets
Maintaining relationships and emotional connections is beneficial for people living in residential care. Lifestyle plans can encourage visits with family and friends and promote other relationships which bring joy, like pet therapy.
Personal services like haircuts, massage and beauty therapy
Self-care and taking pride in appearance makes many people feel confident, capable and inspired. Sometimes the little things make all the difference, and lifestyle planning may include access to personal and beauty services: like haircuts, massage, facials and manicures.
Who can study this course?
The CHC43415 Certificate IV in Leisure and Health is a suitable pathway for residential care workers with an interest in lifestyle and leisure-based care.
Now that we've updated our delivery modes it's even easier to develop your skills in this rewarding area, and with both workplace and distance training on offer you'll find a flexible study option to suit your needs.
Workplace training is designed for those currently working in residential aged care and includes regular visits and support from your own dedicated trainer.
Distance training is available to those not currently working in the sector and involves both practical placement and learning with paper-based resources, as well as trainer support via email, phone or video-call.
Explore opportunities for career growth
This pathway into leisure and health opens up a wide range of exciting employment prospects and ways to make a difference.
After completing your CHC43415 Certificate IV in Leisure and Health you may be eligible to work in a range of care roles, such as:
Lifestyle coordinator for individuals and groups
Health and leisure coordinator
Aged care activity worker
Leisure and therapy assistant
Disability officer
Activities officer
Community leisure officer
Recreation activities officer
Tailoring suitable lifestyle plans for both individuals and groups requires understanding, consultation and flexibility, and there will be instances where it's important to think creatively.
Looking at the list of outcomes you may have noticed just how much breadth there is, which means there will be plenty of opportunities to diversify and a lot of room to grow.
The change you've been looking for
Leisure and health is a stimulating area which is only set to become more integral to the way we think about and practice aged care in residential settings. Assisting elderly people to stay healthy and live well is a crucial aspect of putting people at the heart of aged care. In doing so we ensure every Australian gets to age with dignity.
For carers, it's a way to continue thriving in this dynamic sector. This career path provides opportunities for personal growth and requires individuals to think outside the box. You will learn how to support the health and wellbeing of elderly residents and have many chances to engage with each other in mutually rewarding ways.
And that's not all — predictions for continued growth in the sector means that a role in leisure and health will also set you up for expanding employment prospects, job security and a competitive salary.
If this sounds exciting, our team can tell you more about your options and discuss a new pathway through the CHC43515 Certificate IV in Leisure and Health.