Through developing and delivering human-centred education, we give people the knowledge and professional skills to create a caring and compassionate society.
Human-centred education has been shown to empower learners to discover their potential and flourish on their desired pathways. We take human-centred education techniques to heart, focusing on developing and reinforcing soft skills in our courses alongside practical techniques. As the name suggests, this approach focuses on the human element of education — that is, our learners' wellbeing, curiosity and care in relation to their studies.
Through human-centred education we are better able to serve the ever-evolving aged care, home and community care, disability care and early childhood education and care sectors.
Design Thinking is how we achieve a human-centric approach, with empathy the key player.
Design Thinking is a process that has five simple steps, bypassing assumptions to result in a true understanding of the real and current issues our clients and learners face. To create desirable solutions, the first step is to really get to know your audience. What are their pain points, their fears, what gets in the way of their career aspirations?
We all learn in different ways, that's why we design our courses to also encompass Universal Design for Learning so that we can challenge and support ALL individuals in meaningful ways to maximise their learning experience. This is how Design Thinking transforms the way we do what we do and help us to evolve. It's the epitome of reflective practice and compassionate leadership.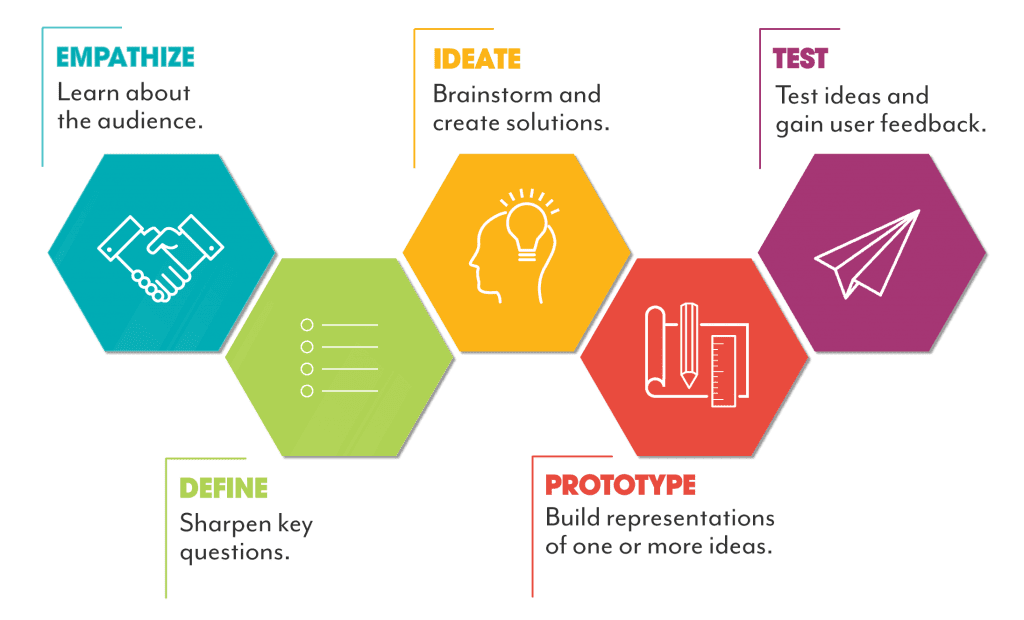 Human-centred education in action

A specific example of how we implement a human-centred approach is via our practical placement reflective journal. This best practice placement journal hones the essential skill of critical reflection.
While practical placement involves a lot of hands-on training presenting an opportunity to develop a range of technical skills, there is also an opportunity to hone in on the soft skills of graduates, also referred to as interpersonal skills such as communication, adaptability, assertiveness, empathy and creative thinking.
Self-reflection techniques within our learners' placement journal enable them to gain a greater understanding of their strengths and weaknesses and to map how their perspectives change along their learning journey – to gain better results.
It also better meets the needs of our clients who require graduates who display the emotional resilience required to thrive in their profession.