Starting fresh with a new career begins with finding the right qualifications to meet your goals. A Certificate III in Individual Support is the perfect place to start for those seeking a fulfilling career where you can make a difference every day.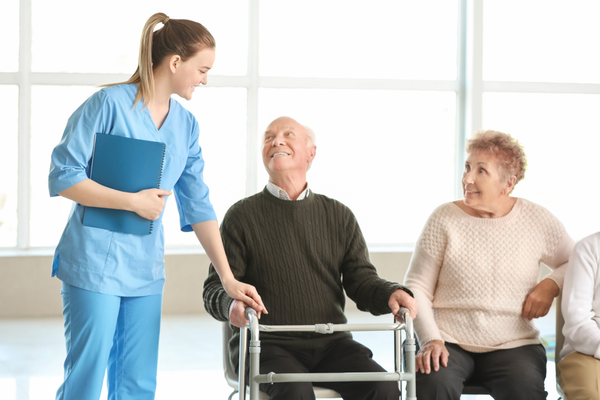 Growing older, many of us will need to have a helping hand to get by. A career as an aged care worker means you provide the support elderly people need to get the most from their lives as they age. It's an inspiring role and one that is vital in every community.
Many reasons to choose an aged care career
The inspiring people who have careers in the aged care sector each have their individual reasons for choosing this career path. Many in the sector wanted to find a career that gave them a sense of purpose and made a genuine difference in the world. For some, they had a special relationship with elderly grandparents or even their own parents which made them want to make a difference for others as they grow old.
Your reason for exploring an aged care career might be similar or something else entirely. One thing is for certain: there are plenty of great reasons to choose to work in aged care. Here are just a few to consider:
Every day is different
They say variety is the spice of life, and in an aged care job you won't get bored. Each day brings something new and different. You will likely work with a range of people in a variety of environments across either residential care or home care settings.
You're not stuck at a desk
Visiting different clients, either in their separate room or from house to house, you will stay active during your work day. Being up and about has a range of benefits for your health and wellbeing, making aged care a job that will do you good while you do good for others.
The sector is evolving
Now is an exciting time to join the aged care workforce. The renewed commitment to quality, compassionate care as a result of the Royal Commission into the sector means changes for the better are underway. These changes are set to support members of the workforce to be the very best they can be through regular training and more dynamic approaches to care.
There are plenty of job opportunities
Aged care is a booming industry with a growing demand for highly skilled care workers, offering qualified aged care workers access to a sector with excellent job prospects. While the industry currently employs over 255,000 people, it is forecast that 1 million aged care workers will be required by 2050 due to Australia's ageing population. When you gain aged care qualifications, you know you will have a successful career waiting for you when you complete your training.
Customise your course to meet your goals
A Certificate III in Individual Support is the starting point to get qualified as an aged care worker. This 12-month course can be completed online, or you can secure a position undertaking it via workplace training. Either way, the course is designed to be flexible enough to fit in with your life while allowing you to gain all the knowledge and skills you need to be a great aged care worker. Practical placement hours are incorporated too, to ensure you graduate feeling confident and capable in a real-world setting.
With Selmar allows you to steer your aged care career the way you want to go. Did you know you can choose one of two elective streams within the aged care course when you train with Selmar? While the fundamentals of the course will give you a strong foundation to kick start a rewarding aged care career, there are two streams of electives for you to consider. This can help to shape the direction you might take your aged care career in.
Option 1 is the Ageing Stream
Elective units:
CHCCCS011 Meet personal support needs
CHCAGE001 Facilitate the empowerment of older people
CHCAGE005 Provide support to people living with dementia
CHCCCS017 Provide loss and grief support
HLTINF001 Comply with infection prevention and control policies and procedures
HLTAID003 Provide first aid
Option 2 is the Home and Community Stream
Elective units:
CHCCCS011 Meet personal support needs
CHCAGE001 Facilitate the empowerment of older people
CHCCCS025 Support relationships with carers and families
CHCHCS001 Provide home and community support services
HLTHPS006 Assist clients with medication
HLTAID003 Provide first aid
When considering your options, it's worth understanding that when it comes to aged care, there are two key settings within which aged care services are provided. These are residential care and home care. You might have a preference towards one or the other.
Residential care is usually provided in a live-in aged care setting. In residential care, the elderly clients live at the facility and staff are required around the clock to provide care, companionship and manage the aged care home. Aged care workers will provide assistance with personal care, administering medications and generally enhancing the quality of life of elderly people living at the facility.
In home care, an aged care worker will visit an elderly person's own home, helping them to maintain independence in their living situation for as long as possible. Visits might be to provide domestic assistance, personal care, support with mobility and medical assistance. Or you might help with shopping, run errands or accompany clients to appointments.
Job opportunities with aged care qualifications
There are many potential career pathways on offer for you to discover when you have the required aged care qualifications.
While they each have shared responsibilities and centre around enhancing the lives of the elderly in various settings, there are different aspects to these care roles:
Personal care worker
Community care worker
Residential care worker
Accommodation support worker
Home carer assistant
You can learn more each aged care job outcome possibility here.
If you're interested in getting qualified for a career that is so much more than a job, a rewarding role in aged care could be the right fit for you.
We can answer any queries you may have – get in touch with Selmar to learn more.