Thinking about taking on a trainee or expanding your team? You could be eligible for these new wage subsidies designed to boost the economy in the wake of the pandemic-driven economic crunch.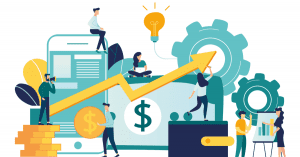 Boosting Apprenticeship Commencements
The $1.2 billion apprenticeship and traineeship boost was announced as part of the Federal Government's budget package to build a pipeline of skilled workers as part of their economic response to COVID-19. This wage subsidy is in addition to the existing $2.8 billion Supporting Apprentices and Trainees wage subsidy.
What is it?
The government is providing an extra 100,000 new apprenticeships and traineeships to businesses of any size, sector or geographic location. Under the scheme, eligible employers will receive a wage subsidy of up to 50 per cent of the Australian apprentice or traineeship's gross wage paid and a maximum of $7,000 per quarter per eligible Australian Apprentice. The subsidy is available for wages paid from 5 October 2020 to 30 September 2021 or until a cap of 100,000 is reached.
What are apprenticeships and traineeships?
Apprenticeships and traineeships combine on-the-job and formal training for qualifications in a wide range of industries. Generally, an apprenticeship provides training in a skilled trade, while a traineeship provides training in a vocational area.
Are you eligible?
You may be eligible if:
you engage an Australian Apprentice between 5 October 2020 and 30 September 2021, and
your Australian Apprentice or trainee is undertaking a Certificate II or higher qualification, and has a training contract that is formally approved by the state training authority.
What is the first step?
Your first step is to contact an Australian Apprenticeship Support Network provider in your area – see below for a list of our preferred providers. They will provide you the Boosting Apprenticeship Commencements Registration Form and tell you everything you need to know about entering into a training contract.
What does Selmar offer?
We offer traineeships for our Certificate III and Diploma in Early Childhood Education and Care and the Certificate III in Individual Services in Victoria and NSW. If you are approved to take on a trainee, we can offer fully supported online training and help you to get the best out of them. Please ask us how!
JobMaker Hiring Credit
The JobMaker Hiring Credit is an incentive for businesses to take on additional young job seekers.
This will help young people access job opportunities as the economy recovers. And will be available to employers for each new job they create over the next 12 months for which they hire an eligible young person, aged 16 to 35 years old.
What you need to know
From 7 October 2020, eligible employers will be able to claim $200 a week for each additional eligible employee they hire aged 16 to 29 years old; and $100 a week for each additional eligible employee aged 30 to 35 years old.
New jobs created until 6 October 2021 will attract the JobMaker Hiring Credit for up to 12 months from the date the new position is created. To be eligible, the employee must have received the JobSeeker Payment, Youth Allowance (Other), or Parenting Payment for at least one of the previous three months at the time of hiring.
For more information about JobMaker Hiring Credit please, click here.
Please contact one of our team to discuss anything to do with your traineeship or training needs.