You have completed your course (yippee!) and it's time to apply for the job of your dreams. But writing a resume can be daunting. After all, first impressions count and your resume is often your prospective employer's first introduction to you. So you need to make a good impression.
Writing a resume that gets you the job you've been hoping for isn't as tricky as you think.
At Selmar, we support hundreds of students each year with interview and resume techniques, so have pulled together our tops ten resume writing tips to get you started.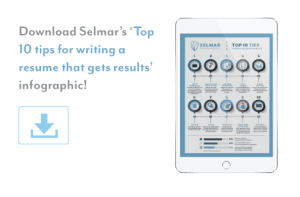 Download the infographic and always keep the tips in front of you

Keep it professional
Demonstrating your professionalism starts with your resume. For example, while your email lukiepookie@gmail.com is fine for your personal life, luke_adams@gmail.com is more appropriate or work-related communications. Don't forget to make sure your social media profiles are either private or have any unprofessional material removed. It's common place for employers to screen job applicants by searching for them on Facebook and Twitter.
Highlight how great you are
Does your resume highlight everything you have to offer this employer? Make sure your resume shows why you're so perfect for the job and makes you stand out from the rest.
Customise your resume
Resumes and job applications aren't one size fits all. Customise your resume to highlight your suitability, be specific. It can be tempting to include your entire employment history, but most employers will only want to know about the experience that's relevant to the job you're applying for. This can include voluntary work too.  Add keywords from the job description in case the company is using a digital database to sift through the high amounts of resume they receive.
Easy to read
Creating a visually appealing resume is great, but make sure you don't over-complicate it. Your prospective employer is going to be reading a bunch of resumes, so make yours stand out for its readability as well as your creative flair. Layout, font, full course titles, and subheadings are essential to consider. For example: if you have recently completed a Certificate IV in Ageing Support, don't just write Cert IV in Age Support.
Submit with care
Many jobs will have instructions or guidelines for applicants to follow. Read them carefully and submit your application in the required way.
File type
Where file type isn't specified, submitting your resume as PDF is the best choice. Plus, make sure you test opening the file, nothing worse than sending a corrupt file.
Design
Unless you are a graphic designer, stick with a resume template. A poor design may detract from the detail in your resume.
References
Your interviewer will likely want to contact former employers or trainers who can tell them a bit more about you. You can either include names and numbers of your references on your resume (make sure they're up to date!) or include a note that references will be made available on request.
Read it over – a few times
In fact, get a friend or family member to read it for you too. Spelling and grammar mistakes aren't a good look. Show your interviewer that you pay attention to detail.
Follow-up
While this isn't a tip to include in your resume, it can make a difference in whether you get an interview or not. Don't just send a resume and wait. Pick up the phone or send an email and follow up on your application. This shows you're proactive and keen.
Need resume help?
Selmar offers resume workshops to it's students as part of our courses. If you are a current student, contact your trainer or the student support coordinator on campus for more tips.
Alternatively, are you making a start on your resume? For the ultimate checklist to get your resume looking it's very best, click here.

Get Selmar's blogs in your inbox in a second! Subscribe to get our latest blogs now.