Everyone has their own reasons for studying early childhood education and their own ideal outcomes from their training. For Selmar graduate Maria Mitris-Honos, choosing to start studying with Selmar was to get her plan to start her own early childhood education centre underway.
After selling a family business, Maria and her husband knew they wanted to start their own business together. In undertaking the research into just what sector to contribute to, early childhood education felt like a natural choice for the couple as they are currently raising two young children of their own.
Although they already possess extensive business experience, rather than just owning a childcare business Maria and her husband were adamant that they wanted to take a more hands-on role and become valued contributors to the early childhood education in their community.
Maria's aim is to be an early childhood education owner who knows the ins and outs of how each part of the centre runs and doesn't hesitate to be an integral part of the service. In achieving this, she felt she needed to get the right qualifications to support her.
"Coming from a different industry previously, we wanted to know the rules and regulations, what's the framework involved and things like that", Maria explains.
With that in mind, she decided to commit to undertaking a Diploma of Early Childhood Education and Care during earlier times of the COVID-19 pandemic.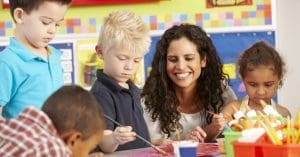 Leaning into transferable skills from previous career paths
Coming from a senior management role in an aquaculture business where prawns were a big part of every day, it's easy to assume that Maria's previous career wouldn't have much in common with her ambitions in early childhood education. However, the transferable skills are often surprising! Selmar's training aims to develop those skills and qualities to support your development as an educator.
Maria has found many of her skills in management were highly relevant to the leadership qualities required to thrive in early childhood education. Things like getting to know everyone's role and having and imparting a solid understanding of how everyone's jobs fit together.
"Through placement I found that each room has its own team and they need to understand how that fits in with the other rooms and teams. As a whole they are working towards the vision and shared goal."
She believes that it is crucial to involve everyone in how her early childhood education service runs, recognising the power of feedback from your team and the impact this has on making employees feel like they are a part of something together.
Supportive training that fits in with your life
At Selmar, offering training options that fit in with our learners' lives and other commitments is highly important. That's why we offer our courses online to ensure that they are accessible and flexible. This was perfect for Maria who was studying at home during the pandemic with her children at home too.
"It was so accommodating to be able to study online really early then focus on caring for kids, or jump online when the time came up during the day or when they were in bed."
Maria found the online learning portal at Selmar meant that her studies were easy to navigate with all the information needed right there for you. This meant she could focus on getting her coursework done to the best of her ability:
"The more you put into it, the more you will get out of it", confirms Maria.
Having a supportive trainer was a huge help, with Maria's trainer regularly checking in with her to see how she was going and guiding her through any questions around assessments and placement.
At one point when Maria needed to take a break, her trainer supported her to focus on personal issues and make a seamless return to study.
Big demand for quality educators
For other people who are considering switching careers and making a move into early childhood education, Maria's advice is to go for it.
"There is a massive need for educators in the early childhood education space, and it's a great time to look at becoming an educator because there is a big demand", she explains.
Maria is currently in the process of finalising the location of her early childhood education service. Her and her husband are excited to provide quality care to children and will focus on offering training to early childhood education staff.
Seeing Selmar graduates go forward to achieve their goals and make a difference to the sector is why we are committed to always providing the very best early childhood education training possible.
To learn more about our courses, get in touch.