Getting started in the rewarding early childhood sector can provide a career that is fulfilling and has a positive impact on future generations. For people who want to make a difference in the world, working with children is an excellent choice.
As well providing a career that brings a sense of purpose to your life, early childhood education offers many other advantages including excellent job prospects, a career with variety and opportunities to upskill and advance.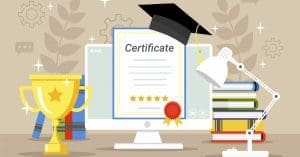 Why choose an early childhood education career?
To work in early childhood education means helping to shape a bright, thriving future for children. Your input while children are in your care can support positive outcomes for their lives now and well into the future.
More than ever before, early childhood education and its workforce is being recognised for its valuable contribution to communities and families. Increased uptake combined with Government funding and support makes it a worthwhile sector to embark on a rewarding career. Plus, there are many more reasons to consider an early childhood education career:
Giving children the best start in life
Every child deserves the best start in life. They deserve to have people around them who care about them, value them and are committed to helping them grow and reach their full potential. As an early childhood educator, you can play a key role in children's development taking a play-based learning approach that leans into children's interests and scaffolds their learning.
Rewarding and meaningful work
As an educator you transfer essential values, knowledge and skills to educate and inspire the next generations. The work you undertake each day as an educator makes a genuine difference for others. Your commitment to your work can never go unnoticed as you are helping to shape children's lives as they undergo most critical stage of development. Seeing the children in your care grow and progress offers a sense of fulfilment seldom found in the workplace.
A career that is truly fun
Using your imagination every day, getting involved with painting and creating, singing and dancing, playing and laughing with children — it probably goes without saying that a career in early childhood education is truly enjoyable. There aren't many career paths where you can say that you go and have fun every day, but as an educator that is exactly what you get to experience.
Plenty of opportunities
The early childhood education sector is growing and needs high quality educators to meet demand. This means excellent job prospects for qualified individuals who are dedicated to caring for children and supporting their development and wellbeing.
How to get started in early childhood education
Making the first move toward becoming a highly skilled educator who can provide engaging learning experiences for children can set you on a path to a fulfilling career.
If you are just starting out in the sector, you will need to enrol in the CHC30121 Certificate III in Early Childhood Education and Care. This qualification is the entry level pre-requisite to commence work in the sector and kick off a fantastic career.
This 12-month course covers all the fundamentals of working in early childhood education and can be undertaken as an online course or via workplace training. It includes a practical placement component to ensure that you get essential hands-on skills and experience. This helps you to graduate feeling confident and capable.
The early childhood education sector offers the opportunity to get your qualified via online courses. This means you can study via distance mode. Alternatively, you could consider workplace training mode which involves working in the sector while studying. Online training is flexible so you can make it work within your own individual life commitments while gaining your qualifications.
Career paths to explore in ECEC
With a Certificate III in Early Childhood Education and Care you can access a variety of career starting points educating and nurturing young children.
With this entry level qualification, you might explore a career in a role such as:
Educator in a long day care setting
Kindergarten assistant
Family day care educator
Before or after school care educator
To upskill and progress in early childhood education, the Certificate III level qualification is required. From here you can access further educational opportunities, such as the Diploma of Early Childhood Education and Care and perhaps look at a pathway to a university qualification. These can open doors for your career to advance in roles including:
Room leader in long day care setting
Childcare centre director
Kindergarten teacher
Primary school teacher
With any position supporting children, you can know that you're helping to lay the foundation for children's education and future.
Learn more about Selmar's CHC30121 Certificate III in Early Childhood Education
Ready to get started? We have created the Ultimate Guide to a Career in Early Childhood Education — you can download it for free right here.
If you want to chat to one of our course advisors, the Selmar team will be more than happy to help answer all your questions. Get in touch today.