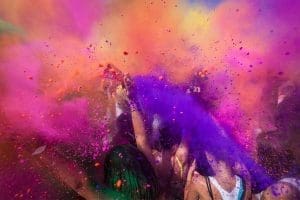 Melbourne's Tatterson Park in Keysborough will soon become a vibrant playground for hundreds of visitors as the Holi Festival of Colours returns for the ninth time.
Holi is an ancient Hindu festival, known as the festival of colours or the festival of love. It's mainly observed in India and Nepal or other countries where there is a great Hindu population, and it generally takes place in March. In recent times though, it has found its way into many other countries and continents including Europe, North America and Australia.
Take time out in the name of peace and love
The event is about the triumph of peace, love and good over evil and is marked with an explosion of colour. The idea is that by smearing coloured powder all over each other, people's perceptions of religion and social status no longer matter. All become equal.
The powder is usually made from rice flour, which is coloured with natural ingredients that make it unharmful to use outdoors and on skin.
After a day of frivolities, participants traditionally clean up and go out in the evening to be with friends and exchange sweets.
Selmar celebrates a culturally diverse Australia
Melbourne's Holi Festival of colour coincides in March with Cultural Diversity Week. Cultural Diversity Week is Victoria's largest multicultural celebration and is now in its fifteenth year. This year running from 18-26 March, it will feature a program of exciting festivals and events around Melbourne and regional Victoria.
Just like Australia itself, Selmar is home to students from all kinds of cultural backgrounds. We cherish the diversity that our students bring and believe that our colourful community is what makes us great.
So if you're free, we encourage you to check out the Holi Festival as well as cultural diversity week!