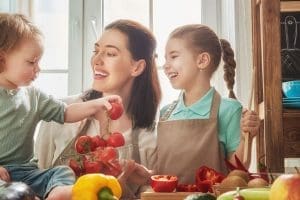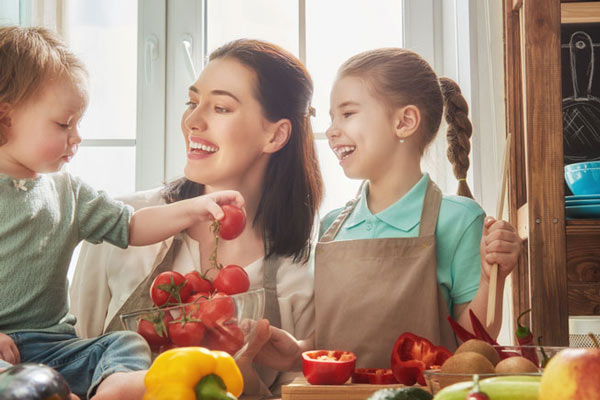 The role of child care worker involves challenges and patience, but it also involves a lot of fun. For example, cooking with children is not only an enjoyable activity — it's perfect for children's development too!
Give children the chance to see how the food they eat is made. In some centres educators are even enjoying growing herbs and vegetables in centres' outdoor areas! This gives children an insight into the process of food from the garden to the plate.
Get cooking with children in your care and you'll enhance their development in five ways that you may not have thought of.
1 Motor skills
Cooking is hands on. It involves a range of fine motor skills to prepare food and cooking with children enables them to work on these. Children can grip onto a spoon to mix the batter, stir with care and pour ingredients into the bowl. That's hard work for a child but excellent practice for those little hands!
2 Literacy skills
A recipe introduces children to many new words. Some they may not have heard before. Melting, rolling, baking — children can learn to say these new words while doing the appropriate action making it far more memorable. Ingredients are great for some common words too, like eggs and milk.
3 Numeracy skills
Regardless of whether children can read the ingredients, they can certainly help to count how many teaspoons of sugar are going into the bowl. Numeracy is extra fun when it's counting out pieces of chocolate to make cookies!
4 Sensory experiences
Experiencing the world with their hands is what children love to do. Cooking can involve a range of new textures, smells and tastes for children in child care. It can help to have a surplus of ingredients so children can get a bit messy and feel them as you go through the recipe.
5 Moral development
Group activities are ideal to assist with moral development in young children. Cooking with the children in your care gives them an opportunity to develop the skills needed to learn to work with others.
Cooking is an essential life skill with so many benefits. Child care workers — try cooking up a storm in your centre and watch children's faces light up as they create something that is hopefully yummy!
If you need to refresh your skills in food handling, our short courses are just what you need. Find them here.