Don't let Easter pass by unnoticed in your aged care setting — use this time of year to explore Easter. A simple yet enjoyable way to do this is through incorporating a range of Easter-themed activities for elderly residents to partake in.
For some Easter may be a time of religious reflection, while for others it is a time to indulge in chocolate eggs and hot cross buns. Whatever Easter means to your residents, they no doubt have memories or associations with Easter that may even go back to their childhoods.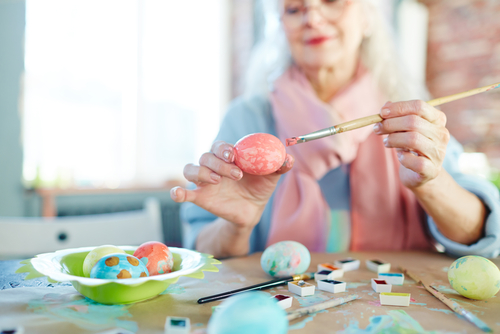 Create engaging Easter activities that everyone can get involved in and celebrate Easter with those in your care.
Art therapies have countless benefits for ageing individuals, from reducing stress and symptoms of depression, improving memory and even decreasing physical pain. Embarking on creative pursuits together in aged care facilities can also increase socialisation and communication and strengthen relationships.
This Easter, encourage the elderly residents in your facility to take part in themed Easter activities and experience the fun and benefits of art and craft.
Easter activities for aged care facilities
Decorating eggs
Rather than paint and draw on a flat piece of paper, diversify your approach to craft with Easter-themed painting of eggs. This is a traditional pastime for this time of year and can be done with real eggs by blowing out the egg inside to paint the shells. Be mindful of egg allergies, but of course, you don't have to use real eggs — any egg-shaped object is fine. Encourage everyone to sit down with their eggs and get creative, experimenting with different colours and designs, expressing themselves through art.
Easter scavenger hunt
The elderly may not be up for the classic egg hunt that children adore at Easter time, but you don't need to hide chocolate to have fun at Easter. Stick Easter-themed images on walls and around your facility and make a list of the items everyone needs to find. This could encourage some team work too. Add in prizes for extra motivation!
Easter gardening
Easter is traditionally associated with rebirth and spring, even though it takes place during autumn for us here in Australia. Nonetheless, white lilies, tulips and daffodils are thought to be perfect Easter gifts. With this in mind, set up a gardening station at your aged care facility to encourage participation in this art and nature activity. Decorate recycled cans or pots to fill with soil and plant seeds or saplings and continue to nourish them and watch them grow.
Origami Easter bunnies
Simple, mindful and very rewarding, origami is the Japanese art of paper folding. No glue, scissors or mess to worry about, origami simply requires squares of paper, clear instructions and a little patience. There are various shapes and designs you can make, varying from very easy to quite complex, so it's great for a range of levels of ability, commitment and interest. Take a look at some Easter designs with instructions here.
Host an Easter movie session
When everyone is crafted-out, what better way to relax than with an Easter movie session. From the religious themed options like 'The Greatest Story Ever Told' or 'Jesus Christ Superstar' to family-friendly animations like 'Hop' or 'Rise of the Guardians', there are plenty of engaging Easter movies to enjoy.
Whatever Easter means to you or to your residents, you can't go wrong with incorporating some Easter fun at this time of year.