The career you choose, or fall into, when you first enter the workforce is probably not going to be the career you are in throughout your lifetime. For many, careers can take twists and turns including stints in a variety of different sectors.
For 15 years, Ming Choo was a chef at one of the finest hotels. Following this he owned and ran a café. With a young family Ming wanted to find a career that would allow him more time to be with his loved ones, and so he moved into a sales role.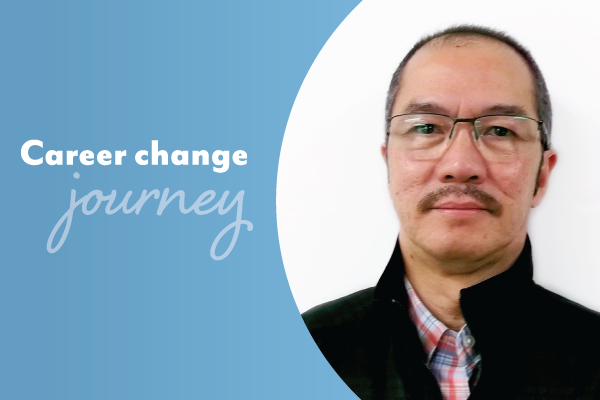 Over the years, it felt time to find a career that was more meaningful. It was then, upon recommendations from friends, that Ming decided to enter the aged care sector as an aged care worker. He soon realised how meaningful the profession really is.
"I don't look at aged care work as a job, but as providing a service to another human being."
Fast forward to today, and he is a valued aged care trainer here at Selmar. It should be noted that such is his commitment to aged care and its recipients, he continues to work in an aged care facility on weekends.
"Once you have built a relationship with the residents you care for it is difficult to leave", he explains.
Transferring skills from one career to the next
A journey from chef to sales to aged care to training others — that transition from cooking and selling to aged care doesn't sound like it would be straightforward or have anything in common, but it can be surprising how many skills are transferable.
For Ming's career switch, he found that qualities he honed in hospitality and sales such as effective communication and talking to a diverse range of people were immensely useful for his aged care work.
As well as skills from previous jobs, many of the personal qualities people have such as empathy, compassion, kindness, organisation, flexibility and more can be highly valuable for an aged care career. At Selmar we work to develop those skills and qualities in our courses so that learners can enter the aged care sector with maximum preparation and readiness to succeed. We achieve this through a focus on support especially during practical placement and an encouragement of self-reflection throughout the training journey.
The reward of an aged care career and plenty of room to grow
The aged care sector is currently entering a phase of positive change, in light of the Royal Commission into Aged Care. Those who are looking at aged care jobs can be assured that their skills will be in high demand in the growing sector. Along with job security, aged care makes you feel good about what you do.
"When you come from work as an aged care worker you feel good about yourself because you have been helping others and the rewards come in many forms. There is also so much to learn from the elderly as they share their experiences with you."
As well as finding a greater sense of purpose in an aged care career, Ming notes that the sector offers various avenues to explore. For example, once you become an aged care worker you can look at upskilling to specific areas such as working to create lifestyle programs for the elderly to enhance their lives, or explore management positions to lead teams and create a strong workforce.
Having been a student of aged care himself in recent years as well as studying to become an aged care trainer, Ming has a great ability to be able to identify what learners are going through in the studying journey. He makes an effort to help them build confidence in themselves and gives them tailored support to suit each individual.
Consider a career in aged care
Whether you're ready to switch sectors or are just starting out in the workforce, Ming's advice to anyone who is looking for a career with genuine job prospects to consider aged care.
"Don't just ask one person for advice about entering aged care. Speak to many who are working in the sector and make the decision if it's right for you.
We can help answer any questions you may have about aged care. Get in touch with Selmar for advice on where aged care qualifications could take your career.
–
As seen in Aged Care Australia publication.