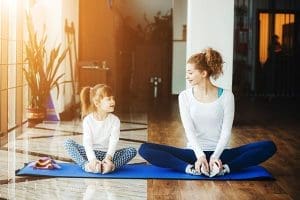 Though practiced for thousands of years, yoga is still relatively new in western cultures – but it's popularity just keeps growing.
Yoga cultivates health and wellbeing through the regular practice of different movements, postures, breathing exercises, relaxation and meditation. It helps to build physical, emotional and mental strength and its benefits are certainly not confined to adults alone!
Research is revealing that yoga and meditation can be incredibly beneficial for children, including those in early childhood settings. For example, one study found that children with ADHD who learned meditation and practiced regularly had better concentration and experienced a decrease in hyperactive outbursts.
Working in child care you're faced with children from all backgrounds, with diverse needs, personalities and behaviors. The beauty of yoga and meditation is that the practice has a universal appeal and can work for almost any type of child.
Here are some of the key benefits of introducing yoga and meditation into childcare:
Greater Focus and Concentration
Yoga focuses on clearing the mind by focusing on achieving different poses. This single focus helps teach children to concentrate – a benefit which can carry into other areas of learning, play and life.
Enhanced Flexibility and Physical Health
Yoga uses the body's own weight to train – it is low impact and low risk in terms of injury. Many of yoga's poses increase flexibility and in children, they will learn to use their muscles in new ways. Additionally, yoga helps people of all ages to become more aware of their bodies, including its potential and limitations.
Calmness 
Yoga and meditation promote mindfulness, a mental state achieved by focusing on the present moment. Practicing mindfulness is a proven technique for dealing with depression and anxiety and can help people feel more relaxed.
For children, mindfulness through meditation has been thought to benefit overall mental health. One study found that a program for children consisting of yoga and meditation helped them feel happier and more relaxed.
What's clear is that yoga and meditation can have a profound impact on physical and emotional wellbeing for people of all ages.
As we see an increase in yoga and meditation resources for adults in Australia, it's expected that we'll see an uptake in the practice in childcare settings too.
| | | |
| --- | --- | --- |
| | By sending this message, you are accepting to receive communications from Selmar, including internal sales staff responding to your enquiry. | |