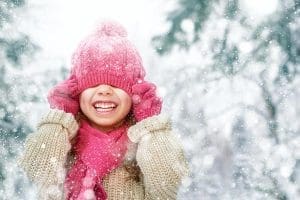 Winter is here and the days of shorts and thongs are gone for a while. It's all about coats, boots, and scarves. Working in child care, it can seem natural to keep children indoors now that the temperature has dropped. However, there are many benefits to playing outside.
Get outside, it's good for your health!
While you should rug up to help your body stay warm and comfortable in the cold weather, there is no reason to avoid letting children play outside in winter. In fact, it can be good for their health (and yours). It improves the immune system, provides exercise, stimulates imagination, and much more.
Fresh air
Contrary to popular belief, cold weather doesn't give you a cold. Colds are caused by a virus and we're actually more likely to spread and catch those germs when in a confined space together. Get outside and escape the germs! Enjoy the fresh air and you might find the children in your care stay healthier this flu season!
Vitamin D
Vitamin D is essential for helping the body to absorb calcium, grow strong bones and teeth. It might not be a beach day outside but the sun is still out and we can still get a fix of vitamin D while outside.
Exercise
Physical exercise is important to incorporate into every day. It promotes better sleep cycles and allows children burn off all that energy! With more room to move and explore outside, outdoor play should definitely stay on the to-do list in child care centres through winter.
Stay in and enjoy some indoor activities
Some days in winter it may feel far too cold to venture outside – particularly when it's pouring with rain.
That's okay! Take the opportunity to explore some of the indoor activities you perhaps would do less of in the warmer months. A career in child care means you can get creative – and it's lots of fun!
Here are a few great ideas and activities for your child care centre to keep things interesting when it's too cold to play outdoors:

Play musical instruments: Winter days are perfect for encouraging children in your care to make some music!
Have a treasure hunt: A treasure hunt gives children in child care centres the opportunity to move about with the exciting goal of finding specific items around the centre.
Dance and stretch: Whether it's dancing to music or enjoying some stretching with yoga, it's great to keep children moving even when you're stuck indoors.
 If you're not working in child care just yet but think it's the career for you, we can help you get started. Download our free eBook or chat to our course advisors.
| | | |
| --- | --- | --- |
| | By sending this message, you are accepting to receive communications from Selmar, including internal sales staff responding to your enquiry. | |