In aged care, each day is spent contributing to the quality of the lives of ageing individuals and/or those living with disability. This may also include sharing in the holiday period with residents and helping them to get into the spirit of the season. With the festive season right around the corner, it's time to think about how to celebrate this time of year in aged care facilities.
For many people, Christmas and the New Year are times of celebration and family, but unfortunately not everyone has people to spend Christmas with. In aged care it is likely you will work with some ageing individuals who may not enjoy this time of year. In fact, the feelings around this time of year can vary for those living in aged care.
While some people have family and/or friends to celebrate with, others may not and can find the festive period to bring about feelings of loneliness or sadness. They may also be reflecting on past celebrations with lost loved ones, or perhaps this time of year makes them feel frustrated by a lack of energy or mobility.
Many aged care facilities do an impressive job adding festive touches to their settings — adding tinsel, baubles or even a Christmas tree. You might also like to provide some holiday activities for residents, to bring the Christmas spirit into the aged care environment!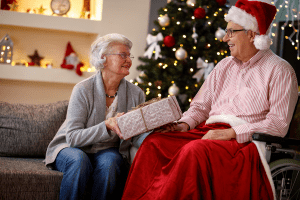 Festive holiday activity ideas
To help you create a fulfilling lifestyle program in your aged care setting over the coming weeks, we've compiled a few holiday activities that you might like to try. These activities focus on inclusivity, togetherness and bringing joy during the end of the year.
Secret Santa exchanges
Christmas is all about giving, but let's be honest — receiving is nice too. Encourage residents to create notes, art or craft and send them to their fellow residents. They can put their notes and gestures to one another under the Christmas tree, or deliver to individual rooms if possible.
Not only does this holiday activity bring the magic of Christmas into your aged care setting, but it also fosters a strong sense of community between residents and carers.
To ensure that everyone who wants to be involved feels included, you could consider allocating a recipient to each resident. Some residents may even find themselves making a new friend.
Christmas craft time
Who could forget about Christmas craft? Making gifts, decorations and trinkets is a favourite holiday activity that is always popular in aged care and provides a lovely keepsake. Christmas cards handmade with love, Christmas wreaths, snow globes — when it comes to Christmas craft ideas, the sky is the limit. We have more ideas for you here.
Set up craft tables and encourage your residents to make something special. It can tie in perfectly with your facility's Secret Santa or make presents for loved ones and visitors.
Holiday bingo
Any time is a good time for bingo, and why not make it a holiday special edition to get everyone in the mood for a happy Christmas? There are a range of free printable bingo games for you to use. Simply choose, print and distribute to your bingo players and get ready for festive fun!
Prefer traditional bingo events at your aged care facility? Go ahead, but add in some Christmas songs to add an element of festive cheer!
Festive movie program
Movies are a great way to escape, and there is no shortage of films to conjure up the Christmas spirit. Create a program of weekly movie sessions for residents to attend and sit in the company of others while viewing a festive movie.
To include those who may prefer not to celebrate Christmas, a program of nostalgic classic films is sure to delight. After all, heading to the movies is a well-loved pastime for many and a simple experience that most can partake in comfortably.
To add to the experience, let residents vote on what movies should be included in the program, and consider spending some extra time at the end encouraging discussion about the movie.
A mindful Christmas
For some this time of year is exciting, for others it can be overwhelming. Get mindful with your Christmas holiday activities in aged care to bring some peace for those who need it.
With a range of physical and mental health benefits, mindfulness enhances wellbeing and has even been shown to prevent or reduce dementia and its symptoms.
Mindfulness is all about focusing on the present and being in the moment, experiencing everything it has to offer. You could encourage mindful listening to music or even dedicated mindful breathing sessions. We talk you through incorporating mindfulness into Christmas here.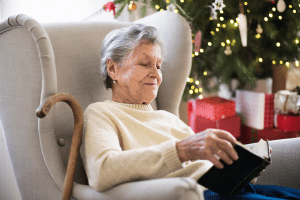 Have a happy and safe festive period
As well as decorations and holiday activities, encourage everyone in your community to reach out to the elderly people in their lives during the festive season and ensure no one feels alone at Christmas, especially as we see out this challenging year.
The team at Selmar wishes you all a happy and safe festive period and a rewarding 2021 ahead.