Living expenses have increased a lot over the years, yet wages have not. To make ends meet and provide for their families, or to continue with a career they love, many mums and dads are both at work. This has lead to higher demand for child care services throughout Australia, including newer options like family daycare. What is family day care, you ask? Let's find out.
What is family day care?
Family day care is a type of child care offered for children from birth through to school age. Family day care is provided by qualified child care professionals within their own home environment, rather than a child care centre or at the child's own home.
It is an approved form of child care, meaning parents can access government fee subsidies much like they would when using long day care centres and the like.
The difference between family day care and long day care
Long day care is the traditional form of centre-based child care used in Australia. While both long day care and family day care are required to provide high-quality care and education to children, there are some differences.
Flexibility: Family day care centres sometimes offer hours that are more flexible or outside of the standard workday hours usually offered by centres. These situations can often suit both families and the family day care provider, whether it is weekend care or evening care.
Offerings: When running a family daycare you don't necessarily need to provide meals and nappies, but some do. It is up to you what you provide to families. Some family daycare providers even provide transport and the cost of the family day care service would reflect the level of service.
Programs: Family day care offers families a great option for child care but they do not offer kindergarten programs. Families can use the child care within family daycare but need to seek kindergarten programs elsewhere. For this reason, you might even prefer to offer care outside of the hours of the local kindergarten.
Getting qualified to start a family day care
If becoming a family day care educator and running your own family day care sounds appealing, we can help you make it happen. The CHC 30113 Certificate III in Early Childhood Education and Care is just what you need. Give our course advisors a call by giving our course advisors a call on 1300 223 040 to find out more.
If you have a qualification already, here are 'The must-know ins and outs of running a family day care'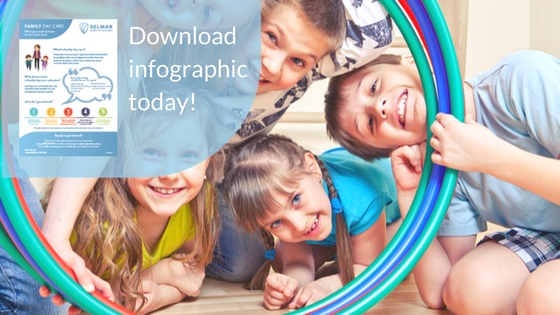 Get Selmar's blogs in your inbox in a second! Subscribe to get our latest blogs now.