Work/life balance is different for everyone, and the study and training approach that works for one person won't necessarily work for you. Our child care and aged care courses are designed with this in mind, with many Selmar courses providing multiple learning delivery modes. This means you can maintain the work-life-study balance that you prefer. Whether you choose to study on campus or off, the team at Selmar will support you throughout your training journey. Depending on your course, Selmar provides the following delivery modes.
Virtual campus
NEXT LEVEL ONLINE LEARNING
Study your child care course anywhere, anytime. Our online learning portal means you can do away with any hard copy paper-based resources and access all your learning and assessment resources online.
The benefits of our online learning portal include:
Dedicated workplace coach and trainer/assessor
Access your materials and assessments
Interactive learning with videos and quizzes
Submit your assessments online, in real time
Easy to use dashboard to follow your own progress
Receive helpful notifications throughout your learning journey
Access support (real people)
Collaborate through our portal forums
No paper. Doing our bit to protect the environment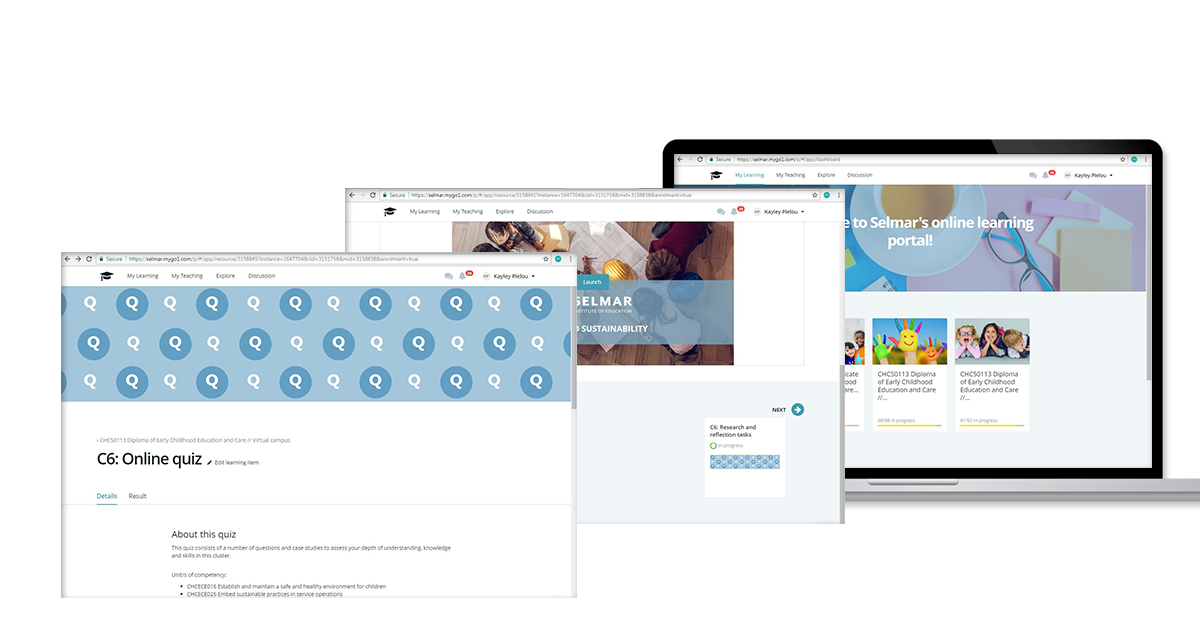 Workplace
Workplace delivery allows students to get qualified through the workplace. If you have already secured a job in the industry, you can study to get qualified or advance your skills while you're working. Why choose workplace training mode:
Distance
Distance training means you can complete your course without attending classes. This is a useful delivery mode if you need study to fit around your existing commitments or have other barriers like transport preventing you from training on campus. You'll still obtain the same qualification and our super supportive and experienced trainers help you every step on the way, from start to finish. Why choose distance training delivery:
PRACTICAL WORK PLACEMENT
Practical learning is the best way to develop your hands-on skills for the workplace, and our practical placement that our dedicated workplace coordinators help organise make it simple for our students to achieve their goals.
It is a requirement for anyone who is completing practical placement in or working in the Early Childhood industry to hold a current Working with Children Check (WWCC for Victoria) or Blue card (Queensland).
The Working with Children Check or Blue card assists in protecting children from sexual or physical harm by ensuring that people who work with, or care for them, are subject to a screening process. It screens a person's criminal records and any reports about professional conduct by the bodies listed in What is checked. The Check does not assess a person's suitability to work with or care for children in a particular role.
All certifications must be applied before starting your placement as it can take up to 4 weeks or more for it to be approved.
Which training delivery mode is right for you?
If you're unsure of which training delivery mode best suits your lifestyle and goals, the Selmar team can talk you through it.  Call us on 1300 223 040 or email myfuture@selmar.edu.au to discover the best training option for you.