Summer makes you think of carefree fun in the sun. While it is an enjoyable time of year it's also important to stay safe in the sun. If you work with young children, these sun safety tips can help you protect their sensitive skin.
Australia is renowned for its hot summers, and Melbourne summer is hot too, despite its cool winter. When you care for children in the heat (and, in fact, all year round), sun safety needs to be a priority.
The UV rays that cause sun damage can affect children even more than adults, and it's our responsibility to protect children from the risks of excess exposure to the sun. There are many ways we can do this, and here are just a few sun safety tips to help you stay on top of it:
Sun safety in the Aussie summer
Don't forget to slip slop slap — slip on a shirt, slop on some high SPF suncream and slap on a hat!
Protect eyes with sunglasses.
Always seek shade where possible.
Don't forget to reapply sunscreen regularly as per the instructions.
Allow time for sunscreen to soak in before heading out in the sun. Around 20-30 minutes is a good guideline.
Always check UV levels when you're taking children out in the sun. It doesn't have to be a hot sunny day for sun damage to occur.
Keep very young babies out of the sun — their skin can burn very quickly.
Plan activities than involve time in the sun for the morning and evening rather than the middle of the day when the UV is at its highest.
Make sure your sunscreen hasn't expired.
Be thorough with your sunscreen application — don't forget ears, back of the neck, feet…
Remember there is nothing healthy about a suntan — never let children think sunbaking is a good thing to do.
Test sunscreen first on a small patch to ensure no allergies.
Can't find shade where you're going? Make your own shade by bringing an umbrella or similar.
Be mindful of hot play equipment and always test slides and swings before allowing children to use them.
Wear appropriate footwear when walking on hot days, as the ground can be very hot.
The sun can be fun, but by making sure you take extra precautions like our sun safety tips, you can enjoy the summer and stay safe too!
Want to learn more about being SunSmart? Here are two more blogs in this series!
Protect children from the sun- Here's why it's vital!
SunSmart child care centre recommendation!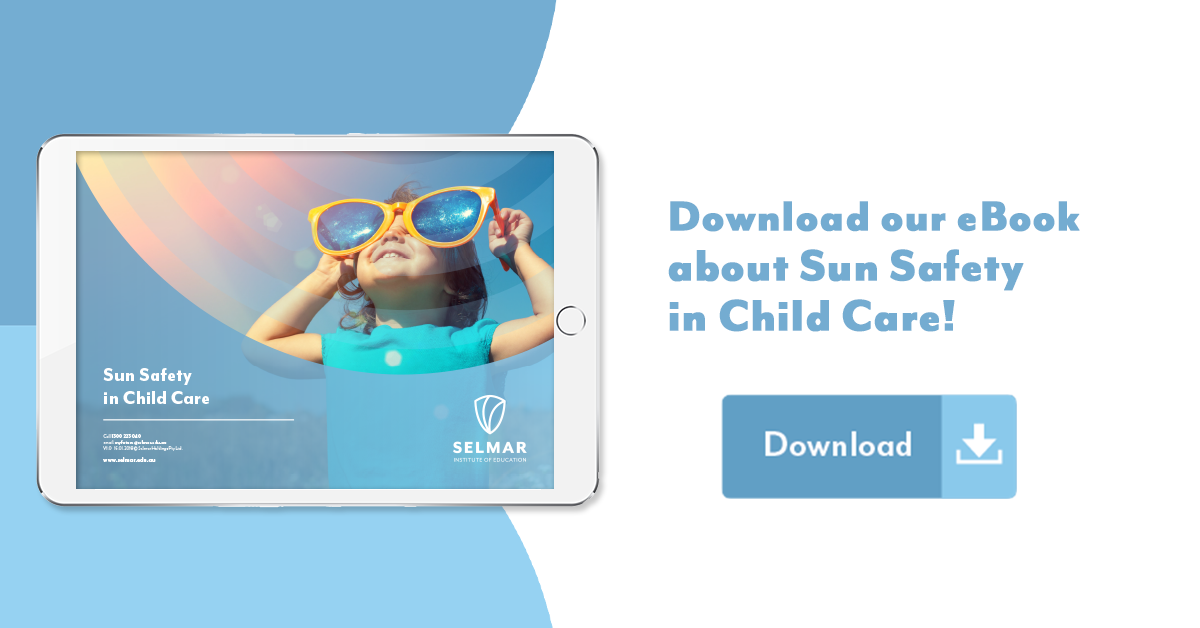 Get Selmar's blogs in your inbox in a second! Subscribe to get our latest blogs now.