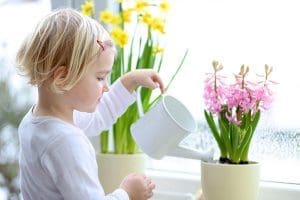 Easter is a time of the year when working in child care is especially fun! Children love Easter and the fun and games that come with it.
From the concept of a magical bunny to the permission to eat more chocolate than usual, there are plenty of things for children to get excited about. When working in early childhood, do keep in mind that individual families and/or centres will have their own approach to which elements of Easter they celebrate based on their culture and religion. Most of the time though, all children will happily participate in some fun Easter celebrations.
To give you an idea of what you can do with children in your care, we've compiled some eggcellent activities to try! You could share these ideas at placement or with children in your centre or family day care facility.
The classic Easter hunt
Easter in early childhood isn't complete without the classic Easter hunt. This is always eggciting for children. Of course, with allergies and parental preferences to keep in mind, a chocolate egg hunt won't always be appropriate.
If that's the case, try creating an Easter hunt with a difference. An Easter-themed scavenger hunt is a great option. You can find some fun examples here.
Yummy Easter treats
Just because chocolate might not be a good option for children you care for, it doesn't mean you can't have some yummy Easter food!
Children love cooking and it's an essential life skill they should all be exposed to and involved in. There are plenty of delicious Easter recipes to try, including allergy-friendly options and Easter egg cookies.
DIY Easter hats
Who remembers taking part in the Easter bonnet parade as a child? We do!
Children in early childhood and primary school are still having a great time creating Easter bonnets and showing them off in 2017. Get inspired with some of Kidspot's Easter hat ideas here. This Easter crown is easy and adorable. Better yet, maybe you still remember how yours was made from your younger days and can recreate it for the children in your care!
Celebrating Easter in early childhood is a joy! Get caught up in it and enjoy one of the many perks of a childcare career. Haven't got your dream career in childcare sorted yet? At Selmar we provide high quality training to kick start your early childhood career. Check out our child care courses here and contact us to make it happen.

Get Selmar's blogs in your inbox in a second! Subscribe to get our latest blogs now.