If you deliver child care to the youngest members of your local community, chances are the latest changes to the child care package will have an impact on the services you provide (…check some facts here if you are a parent)
Let's take a look at some of the things you should know as a child care professional when it comes to the child care package that is set to launch on July 2, 2018.
A new child care IT system
With the new child care package including the Child Care Subsidy (CSS), approved child care providers will also be supported by a new IT system. The new system will replace the existing Child Care Management System (CCMS) and aims to reduce the admin time and improve functionality for centres and educators. Learn more about it here.
Business resources for child care providers
To ensure child care services can make the best of the child care package roll out, the government has provided a range of business and planning resources. Head here to view the resources and some of the suggestions, including scenario analysis and budgeting tools. This poster is a useful way to remind families of the upcoming changes.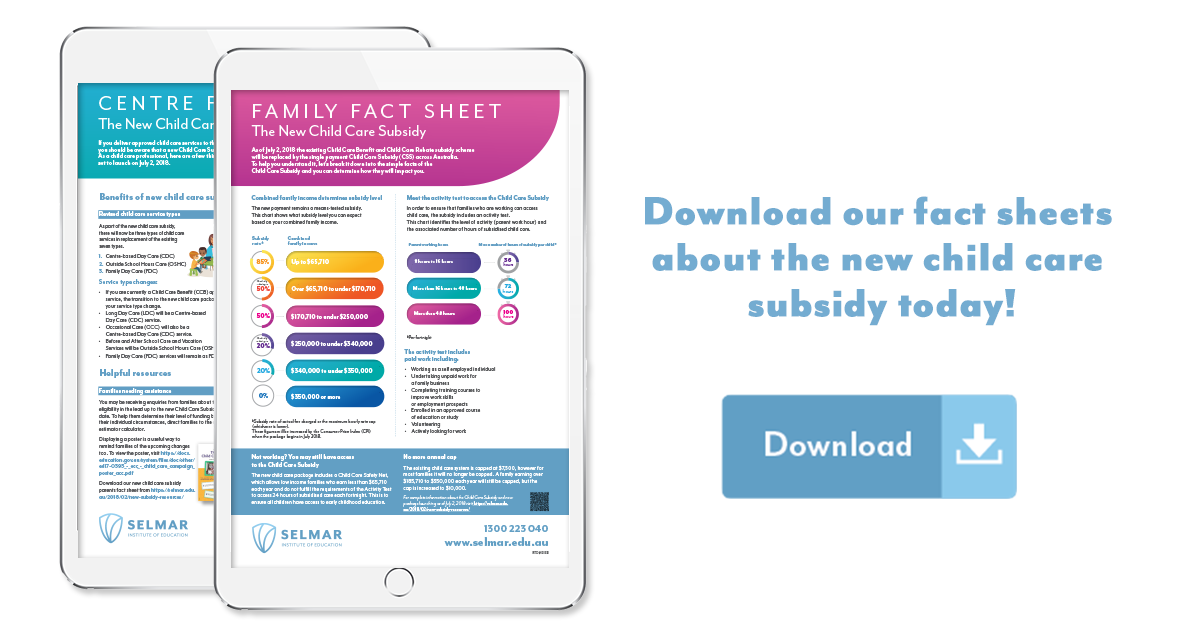 Eligibility as an approved child care provider
In order for families to access the Child Care Subsidy, you need to be an approved child care provider. Here is a summary provided by the Department of Education and Training outlining eligibility requirements:
The provider holds all the approvals or licences required to operate a child care service in the state or territory in which the service is located.
The provider, its personnel with management or control and those with responsibility for day-to-day operation of a service meet all fit and proper requirements. In the case of a Family Day Care service, all educators meet these requirements.
Large centre-based day care providers (ie 25 or more approved services) are financially viable and likely to remain so.
When deciding whether CCS Approval should be granted, the Secretary considers things such as the provider's record of compliance and financial administration. The Secretary also takes into account the suitability of people involved in the operation of the service/s.
Get informed directly from the department
With multiple news articles and even some misinformation flying around about the new Child Care Subsidy, getting your information from the Department of Education and Training is the safest way to go. It's also a great idea to direct families to the online estimator calculator to determine how they will be affected by the change based on their individual circumstances. Find it here.

Get Selmar's blogs in your inbox in a second! Subscribe to get our latest blogs now.