Selmar early childhood education trainer Felicity Vaillard, has always known that her career would centre around teaching others.
The eldest sister of five, Felicity would take every opportunity to nurture and teach her siblings, taking on the role instinctively.
"With four younger siblings, I was always playing teachers at home and just wanted that to be my job from an early age", she explained.
As many children do, Felicity believed her career journey would result in becoming a primary school teacher, but after completing a Certificate qualification in early childhood education, she soon discovered that her passion lay in the early childhood education sector.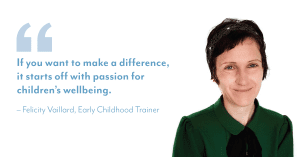 Supporting education and inclusion for all children
Beginning her career in a early childhood education centre, Felicity developed a special interest with inclusion. She then went on to work specifically in a multicultural resource setting, and then into providing childcare support to families who had children with special needs and disabilities.
Always planning for the future and her personal and professional growth, Felicity also spent her time studying a Bachelor of Early Childhood and Primary Education, as well as a TAE Certificate IV in Training and Assessment.
With children and a family of her own, a tree change took Felicity's career to regional Victoria where she continued to work as an educator and also explored childcare consulting. While she loved working directly with children, she knew she wanted to share her experience, knowledge and skills with other passionate carers as a trainer in early childhood education.
Sharing expertise with future educators
Taking on a role as a trainer in early childhood education gives Felicity the opportunity to support new educators as they work towards their qualifications.
"I love that I can be a part of ensuring that we do have passionate, dedicated people entering early childhood education."
Felicity highlighted how rewarding it is to work within a sector where you can make a difference in the lives of children and their families. She is confident that early childhood education is earning the recognition it deserves, perhaps in light of the pandemic and associated challenges throughout this year.
"People are realising that they need to access early childhood education and care for their children, and everyone seems to have a greater appreciation for what a child and communities have to gain from it", Felicity explained.
As well as benefits to society, early childhood provide a valuable career path for many, offering various pathways to follow and opportunities for further training and career progression. Felicity's advice for anyone interested in being an early childhood educator?
"Remember why we are there — for the children. Lay those foundations and let children lead their learning".
Advocate for the children in early childhood
For those entering the early childhood education sector, Felicity encourages a commitment to making a real difference:
"Anyone can sign up and do the course and be an educator, but if you want to make a difference it starts with passion for children's wellbeing. Then go that next step, and advocate for the children".
Are you considering whether a career as an educator might be right for you? Discover if you're ready to study early childhood education.
Get started studying online and thrive in a growing sector where you can have a real and lasting impact on the lives of others.