Medication forms an essential part of delivering and receiving comprehensive aged care — and for this reason, it's an important skill to train.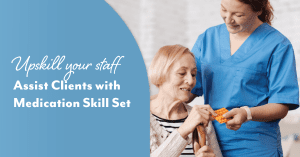 The Assist Clients with Medication Skill Set (CHCSS00070) is a nationally recognised short course designed to upskill those already working in direct care and support roles. The course develops competencies required to assist clients to administer their medication, reflecting the high standards and demands which drive personalised care and generate meaningful outcomes for employees, organisations and clients alike.
About this course: the value of medication skill set training
Ensuring medications are prepared and delivered correctly is an essential part of promoting the health and wellbeing of those receiving care, so it's important that aged care employees are skilled in this area. Ongoing training and upskilling is an effective means of meeting education and training standards as well as keeping up with the demands of this constantly evolving sector. A short course is a great way to provide aged care staff with the opportunity to enhance their competencies, skill set and confidence in the workplace.
Our short course is designed to provide carers with the tools they need to practice medication safely and respectfully. Staff trained in this skill set will develop the desirable attribute of becoming multiskilled 'all-rounders', able to adapt to a range of situations and alleviate the pressure of ongoing staff shortages.
Topics covered in the course include:
The ability to recognise and promote healthy functioning of the body's major systems
Medication terminology
Carers' responsibility to clients
Medication rights
The legal framework in the support and administration of medication
Learners will also familiarise themselves with the Seven Rights of Medication, a set of guidelines designed to ensure that medication is always administered with caution and care.
Blended delivery for flexible learning
At Selmar we understand that learning needs to be flexible. This is especially true for people looking to upskill who are already employed. Working in aged care and direct support can be demanding, and it's important to us that learners are able to balance study with work and other commitments.
That's why, as our short course Coordinator Glen Perry summarises,
"Selmar offers a unique training method of blended learning that gives you the required skills and knowledge to practice medications safely".
Our blended-model program combines the flexibility of online learning with valuable hands-on experience. You can see this in the way we've structured the different components of the course:
Online pre-learning: approximately 8hrs
Face-to-face workshop: 1 day/6hrs
Practical application and observation: 4hrs
The course runs for 5-6 weeks, and during that time learners will be able to complete most of their training when it suits them, online. Our blended model gives learners the opportunity to take control of their learning, but this doesn't mean they'll miss out on beneficial face-to-face interaction: our hands on workshops are led by passionate and experienced trainers dedicated to providing learners with valuable insights, education and support.
Course entry and outcomes
The course is suitable for people who hold a Certificate III or higher-level qualification relevant to direct client care or support. It is designed to enhance the capabilities of people who are currently working in the services industry, including aged care, home and community care, and disability services.
The course has a range of positive outcomes for learners. As our Coordinator Glen Perry remarks,
"Completing the medication skill set is great opportunity to upskill your current knowledge in the aged and disability sectors" as well as a way to "enhance your employability within the industry." 
Units covered in the course provide credit toward a range of further qualifications in the CHC Community Services Training Package or HLT Health Training Package at a Certificate IV and Diploma level.
A range of benefits to all in aged care
As we continue to respond to the challenges and changes brought about by the pandemic, providing staff with opportunities to upskill is more important than ever. It's a way for aged care providers to keep up with the changing demands of the sector, fulfill their business requirements, and ensure industry standards are met and maintained.
As last year's Royal Commission into Aged Care recommends, high quality aged care puts older people first. The Commission identified that putting the dignity and wellbeing of elderly Australians at the heart of the service we provide is one of the key pillars that will lift standards industry-wide. For many in care, medication not only contributes to the treatment of various ailments but has immediate effects on their happiness and comfort. Enhanced knowledge around administering medications will ensure your staff have the ability to respond to and support an array of client needs. Upskilling staff means that employees have meaningful opportunities to enhance their skills and adaptability in this key area of care, contributing to the health and wellbeing of those they care for.
The full range of benefits of undertaking the Medication Skill Set short course could be summarised as:
Assists residential aged care and home and community care providers to meet education and training standards
Enables providers to update their care model to reflect changes to the sector
Ensures staff are well-equipped to provide excellent care
Puts client wellbeing first
Creates multi-skilled 'all-rounder' staff, alleviating the pressure of staff shortages
Having informed, capable and considerate employees is beneficial to everyone. It ensures the highest industry standards are maintained, staff are qualified and equipped, and the people in our care are comfortable and well.
Enrol yourself or your team into the Medication Skill Set
We welcome group bookings of 8-16 people. Some groups may be eligible for discount rates, and our team will happily assist you to get started.