For many Australians, working from home is thought to be living the dream. The hardest thing is finding a career you can do from home. Even if your job could be done from your couch, many managers won't allow it.
Working for yourself can be a great way to have a career from your house, but what would you do? Family Day Care might be just what you're looking for.
Family Day Care is an excellent option that teams all the perks of working from home with a meaningful career that you'll love.
Here are 7 things you must know about working as a Family Day Care Educator.
1. Less stress
When you're running a day care service from your home, you can say goodbye to the morning commute in peak hour traffic. No more early alarms and rushing about – your whole family will benefit.
2. Flexible hours
You can choose to offer as many or as few hours of care as you would like. As you will work closely with families who utilise your family day care services, you can make arrangements with them that best suit everyone. Everybody wins!
3. Get started straight away
You're probably thinking, 'I'm not qualified yet, how can I started running a family day care service straight away?' You'll be pleased to know that you can get started as a family day care educator and service provider as soon as you're enrolled and actively working towards achieving your CHC 30113 Certificate III in Early Childhood Education and Care!
4. Work/life balance
Less stress plus flexible hours, means your work/life balance can be on track. This leaves you with the extra time or energy you need to do the things you love (although, we think you'll love your work in early childhood education too!)
5. Parent-friendly
Do you have children of your own? Not a problem. While there are national regulations in place that outline how many children you can have in your care as a Family Day Care educator, you can include your children in your care. More information on the child care funding aspect of this here.
6. Rewarding work
Working as a Family Day Care educator means you play a meaningful role in the lives of young children. A huge aspect of the role of a Family Day Care educator is to nurture and guide children as they explore and learn – now that's rewarding work.
7. Big opportunities
Parents love Family Day Care and in many areas there is a huge demand for providers. According to Family Day Care Australia, as the needs of Australian working families change and increase, family day care services have never been in such demand.
If you like what you've learned about working in child care and becoming a Family Day Care educator, you can find out how to get enrolled in the CHC 30113 Certificate III in Early Childhood Education and Care by giving our course advisors a call on 1300 223 040, or email us here. It's simple and you can be working from home as an educator in no time!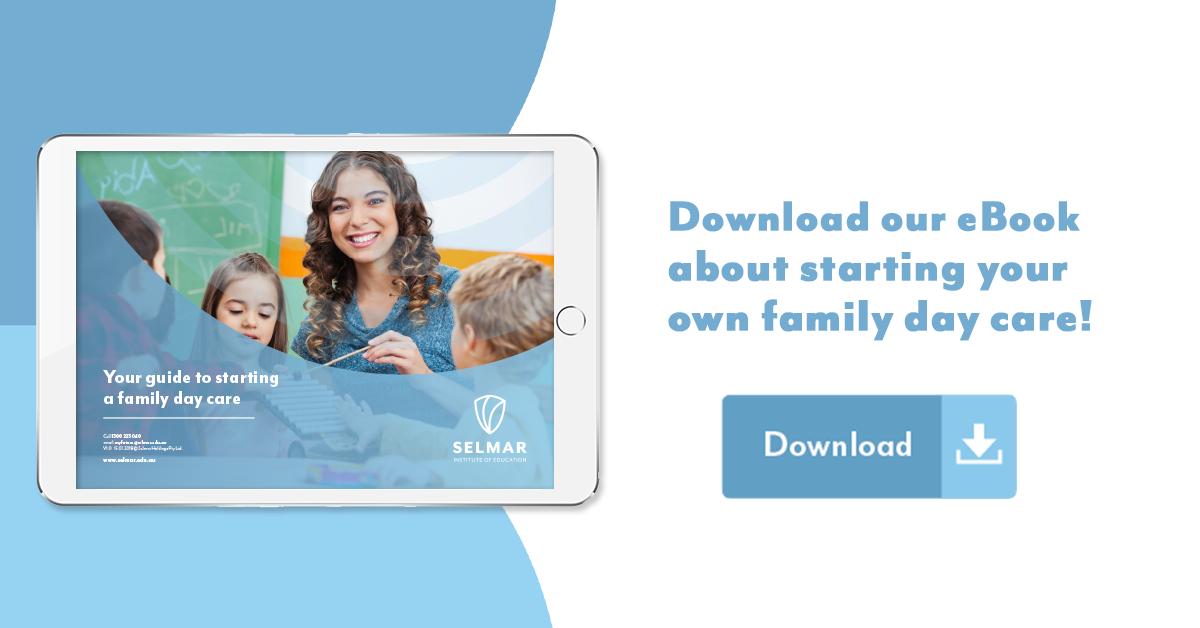 Get Selmar's blogs in your inbox in a second! Subscribe to get our latest blogs now.